It is our responsibility as humans, seven billion of us on a planet deemed fit for far fewer, now more than ever to meet our needs with minimal impact. We must tread more gently with delicate efficient structures instead of deep concrete piles and vast foundations. We must constrict our daily praxis within tighter tolerances, rather than spilling over and indulging arrogant desires for regal opulence.
It is high time that buildings should be highly engineered desirable objects, like cars, where one immediately senses the benefits of contemporary technology including climate control, self sealing doors, surround sound, voice activation, heated leather seats and metallic paint. The environment should be of now perpetually pushing science in making our brief time on Earth more fun.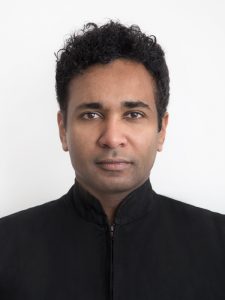 AHMED (AKI)
Ahmed studied architecture at the Glasgow School of Art and started his career working for Claudio Silvestrin as the project architect on Giorgio Armani's Black Label boutique on Sloane Street, 2004. In 2011 Ahmed was working at Foster + Partners responsible for the Intercontinental Hotel at the King Abdallah Financial District in Riyadh and later as project architect for 250 City Road, a large residential development for Berkeley Homes. From 2014 Ahmed joined Adamson Associates and was responsible as a delivery architect for One Park Drive, Canary Wharf's premier residential address.